Donghae Tuna is located in heart of Palisades Park, NJ.

Enjoy fresh sushi, sashimi, rolls, and other delicious seafood dishes. Highest quality cuts with expertly crafted menu items will definitely satisfy your taste buds. Outdoor seating is now available to all customers. Happy hour is from 2PM-5PM and 9:30PM - 12AM. Come by and try our updated menu!

See you soon!

* Menu subject to change without notice and may not represent the latest in-restaurant pricing.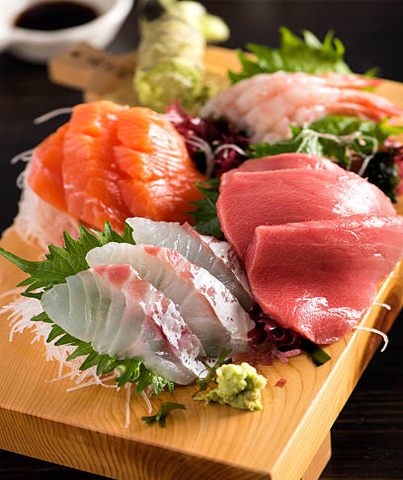 Live Fish Extra Special 동해 활어 특 스페셜
활어 + 해산물 + 랍스터 (Live Fish + Fresh Seafood + Lobster)
Live Fish Special 활어 스페셜
활어 + 해산물 + 랍스터 (Live Fish + Fresh Seafood + Lobster)
Live Fish Combo A 활어 콤보 A
활어 + 해산물 (Live Fish + Fresh Seafood )
Live Fish Combo B 활어 콤보 B
활어 + 해산물(Live Fish + Fresh Seafood )
Live Fish Combo C 활어 콤보 C
활어 + 해산물(Live Fish + Fresh Seafood )
Sashimi Extra Special 사시미 특 스페셜
사시미 + 해산물 + 랍스터 (Sashimi + Fresh Seafood + Lobster)
Sashimi Special 사시미 스페셜
사시미 + 해산물 + 랍스터 (Sashimi + Fresh Seafood + Lobster)
Sashimi Combo A 사시미 콤보 A
사시미 + 해산물(Sashimi + Fresh Seafood)
Sashimi Combo B 사시미 콤보 B
사시미 + 해산물 (Sashimi + Fresh Seafood)
Sashimi Combo C 사시미 콤보 C
사시미 + 해산물 (Sashimi + Fresh Seafood)
Sashimi & Sushi Combo 사시미 & 스시 콤보
Combo A $200 / Combo B $150 / Combo C $100
$100
$150/$200
Tuna / Salmon Roll 투나 / 살몬 롤
Spicy Tuna / Salmon Roll 스파이시 투나 / 살몬 롤
Spicy Yellowtail Roll 스파이시 엘로우테일 롤
Special Spider Roll 스페셜 스파이더롤
Shrimp Tempura Roll 쉬림프튀김롤
Chicken Teriyaki 치킨 테리야끼
Sliced Chicken with assorted vegetables in teriyaki sauce
Fresh Salmon Teriyaki 살몬 테리야끼
Fresh Salmon with assorted vegetables in teriyaki sauce
Fresh Jumbo Shrimp Teriyaki 새우 테리야끼
Fresh jumbo shrimp with assorted vegetables in teriyaki sauce
Eel Teriyaki 장어테리야끼
Sliced eel with assorted vegetables in teriyaki sauce
Spicy Steamed Hard Roe & Styela Clava 고니 & 미더덕 찜
Steamed Hard Roe & Styela Clava in Thick spicy sauce
Spicy Steamed Cod's Heads 대구머리 찜
Steamed Cod's Heads in thick spicy sauce
Spicy Seafood Stew 해물 전골
Seafood with vegetables in spicy beef broth
Spicy Crab Stew 꽃게 전골
Crabs with vegetables in spicy beef broth
Spicy Octopus Stew 낙지전골
Octopus with vegetables in spicy beef broth
Spicy Steamed Chunk of Monkfish 아구찜
Steamed chunk of Monkfish with vegetables in thick spicy sauce
Stir-Fried Assorted Seafood 해물 모듬찜
Assorted seafood with vegetables in thick spicy sauce
Seasoned Mitra Squid 한치회 무침
Sliced mitra squid with mixed vegetables in spicy sauce
Seasoned Raw Fish 회무침
Sliced raw fish with mixed vegetables in spicy sauce
Stir Fried Octopus or Squid 낙지/오징어 볶음
with vegetables in spicy sauce